Information architecture for outstanding technical documentation
Technical documentation should be useful. And just like Bauhaus architecture it should be functional. With clear, short, and concise instructions, even the most complicated products can be straightforward for your users. Technical writers will do whatever it takes to achieve this goal, using clear, coherent language, meaningful graphics, and step-by-step videos. The skills of a variety of experts are required to build technical documentation with a consistent information architecture. You know you've delivered when the user says: "Well, that was easy".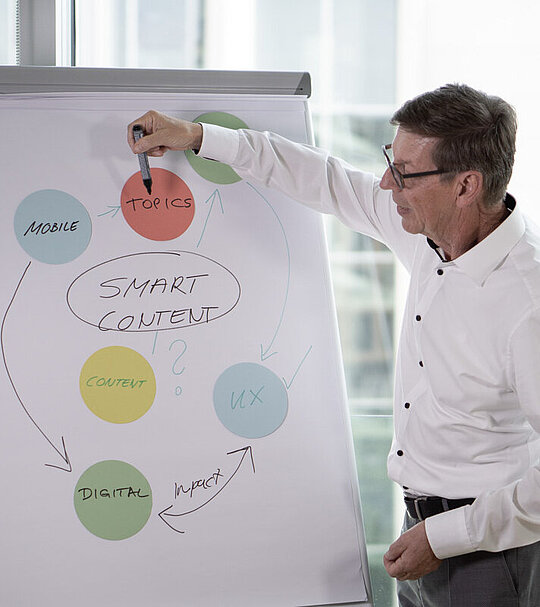 Our content is worth keeping
The fourth most important invention in human history after fire, the wheel, and the vacuum cleaner is the delete button. To see just how much pain it has spared us – and still could – just take a look at social media. The need for the delete button varies in technical documentation, and ideally, we shouldn't need it at all. If reading your manuals leaves your customers confused, that's bad enough. If it's more than that though, then things start to look critical for your content. Just one touch of the delete button is all it takes. And that's the last thing any of us wants. Beware of bad content. Give great content the support it deserves!
We use the latest insights from user experience research to deliver truly exceptional content. Intuitive, clearly illustrated, and risk-free. No matter what content format: text, graphics, animation, audio, or video. Your budget is our benchmark. Quality is our commitment.
Premium quality technical documentation
Enhancement of your product thanks to great user guidance and customer ratings
Preparation for multimedia publishing with text, graphics, animation, audio, and video based on your budget
Workflow-driven content creation, for example based on modularization and topic-based writing
Risk-free documentation through compliance with all currently relevant standards such as IEC/IEEE 82079, ISO/IEC 26514, ISO 20607, and ANSI Z535.6
Precise implementation of the latest insights from user experience design (UXD)
Design, layout, and template development, for example in Word, FrameMaker, or InDesign
State-of-the-art documentation development: user friendly, cost effective, and aligned with all relevant standards
Content development based on the latest usability research findings
Creation of graphics and media integration
Modularization and migration of content to your content management systems
Quality control:

Review of style, grammar, spelling, and content
Terminology extraction, coordination, and maintenance, also using tools

Sustainable content development:

Development of an editorial guide and a style guide for future content

Usability tests:

Expert analysis based on heuristic evaluation
User surveys: online polls, telephone polls, face-to-face interviews, focus group interviews, and user testing in the usability lab
Our tools and your projects: compatibility guaranteed
As well as standard content management systems, we use desktop publishing tools and graphics programs to handle your projects. But that's not all – we also use [i]-match, the itl authoring assistance tool. This allows us to support you throughout the entire technical documentation journey: during content creation, for tool and system rollouts at your company, for data cleanup in your systems, and for fine adjustments to the layout of your documents in the selected target languages.
At itl, we use the following tools:
If you have already designed and written your technical documentation, we are happy to provide the following quality control services for content and user guidance:
Review of style, grammar, spelling, and content
Terminology: terminology extraction, coordination, and maintenance, also possible using a tool
Guidelines: development of an editorial guide and a style guide for future content
Usability tests:

Expert analysis based on heuristic evaluation
User surveys: online polls, telephone polls, face-to-face interviews, focus group interviews, and user testing in the usability lab
UXD – blog article (in German)
Find out everything you need to know about UXD in Dieter Gust's blog article "The future is now, and it's called UXD – User Experience Design".
The itl-newsletter (in German)
Sign up for our newsletter and get the latest news on technical documentation, translation, software, and training.
Videos and animations: … aand Action!
Motion graphics without movement are about as useful as an audio book without sound. In videos and animated sequences, it's all about action. Someone speaking to a camera isn't enough; unless, of course, the voice itself is the message. But this is rarely the case. As it happens, workflows and processes, clearly presented, are ideal candidates for film. In other words, practical demonstrations of how to do something. And if it's properly scripted, it doesn't even matter what language the video is in. Ideally, processes and procedures should be so self-explanatory that spoken instructions are no longer required. And if sound and processes are not important either, all you need is 2D or 3D animation. They are more effective than an image. Lots of options – and the perfect visual solution for every scenario.
We find the right visual solution to transform your assembly documentation or service and instruction manuals. We also develop training videos for product training sessions or manufacturing instructions, in line with the latest UX principles.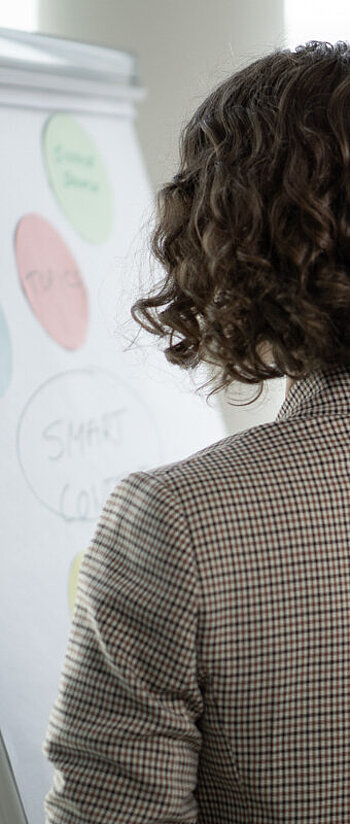 Greater customer satisfaction thanks to clear, coherent instructions
Less work for your customer service team
Expert multimedia guidance for your technical products
Integration with marketing on your social media platforms
Your online presence is strengthened, also for SEO
A holistic concept for your visual instructions based on optimal user experience design
Implementation using video, or using 2D or 3D graphic animations
Pre-production including user scenarios, navigation structures, and storyboards
Direction and filming including editorial support
Post-production: Editing, voice-overs, and, if necessary, integration of text
HTML5 for responsive output including video player design
Usability tests once development has been completed
Always up to date: the itl Blog (in German)
The latest news on technical documentation, translation, workflow optimization, terminology, and our company.
Text and graphics – the communication dream team
"A picture is worth a thousand words" – this may be true, but try illustrating this simple sentence as a graphic. There's a limit to what you can do with text, and that's true of graphics too. But put them together and you have a dream team. Humans notice pictures much more quickly than text. By how much? By about 60,000 times. That's the same as if you drove an incredible 90 times around the earth at 60 km/h. In other words, pictures are at least as important as text as part of your technical documentation because they are understood and processed at high speed. In fact, for some topics, visual elements are the preferred choice when it comes to making your technical documentation clearer and easier to understand.
We enhance your product documentation with functional visual elements so that your customers can understand the content more quickly and easily. There are numerous options available, each of which makes use of a specific approach.
The visual elements we use include:
Technical illustrations
Spare-part and exploded-view diagrams
Conversion of photos to line drawings
Greyscale and color graphics
Schematic and functional block diagrams
Infographics
Sectional and composite drawings
3D product visualization
Pictograms
Product stickers, warning signs
Here you can see an example of a pictogram system that we developed especially for a customer. The reader should understand the message within a few seconds. Learned schematic symbols that structure the content visually are used as an aid. They also provide excellent guidance for users when navigating webpages in apps or in online documentation.
Our pictogram services include:
Design of pictogram systems
Individual pictograms, pictogram sequences
User testing, style guides
You can request a free quote here:
Documentation analysis with the itl DocuCheck
Standards aren't exactly known for their entertainment value. Sometimes, even just reading them is painful. But they do have their uses. They may be wooden and dry, but they are of enormous benefit when used in technical documentation. Not only do they prevent liability claims, they also enhance the value of your products with clear and coherent documentation too. That means happy customers and legal compliance at home and across the EU.
We review your documentation as part of a comprehensive document analysis or create new documentation based on current legislation and standards. And not only that: we share tips and tricks on the best way to deal with standards yourself.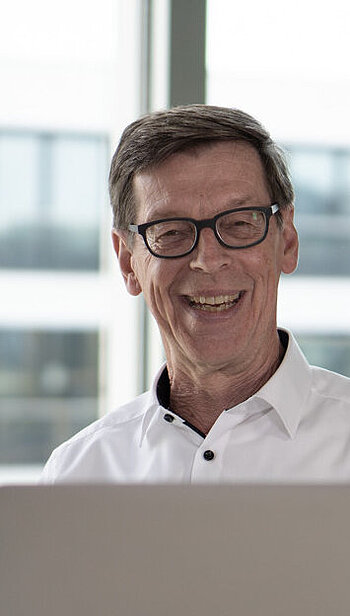 Compliance with standards throughout Europe
Comprehensive legal certainty for your technical documentation
Elimination of risks related to product liability in accordance with §823 and §434 of the German Civil Code
Greater added value for your product thanks to clear and coherent instructional material
Presentation of itl's analysis and our recommendations
Validation of compliance with standards and usability
New: Validation for accessibility
Validation in accordance with the relevant EU directives
Validation of compliance with ISO/IEC/IEEE 82079
Additional validation of software documentation in accordance with ISO 26514
Validation of electronic documentation in accordance with the criteria specified by the ergonomics standards 9241-11, 9241-110 and 9241-112
Our experienced technical writers and our experts in documentation standards review dozens of technical manuals every year from almost every industry. Examples include technical documentation for products from industries such as automation, building technology, IT hardware and software, consumer goods, mechanical engineering and plant engineering, as well as measurement technology. The scope can be anything from 10 to 300 pages. Yet regardless of your industry or the size of your documents, you can be sure that in the end, itl will create technical documentation for you that is perfect in every sense of the word. And not only that: we share tips and tricks on the best way to deal with standards yourself.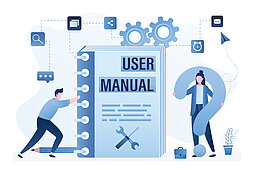 itl-NormenGuide (in German)
Get our latest guide to the most important laws and standards now. Free to download.
Trailer (German only) for the itl standards guide
An introduction by co-author Dieter Gust to the itl standards guide
Your contact persons on the subject of Smart Content