A content supply chain is complex – but not complicated
The thing about relays is that no matter the distance, the structure is clearly-defined. Just how we like it in content management. None of the athletes wonder where the baton is. The anchor doesn't run off the track when the finish line is in sight. Perhaps you're thinking: this is like comparing apples with oranges. After all, a content supply chain is so much more complex. With so many international partners, suppliers, and customers who somehow all have something to say about your content. And because of the different content formats and management systems for all sorts of things. Yes, a content supply chain is complex. But does it really have to be more complicated than a relay? We don't think so.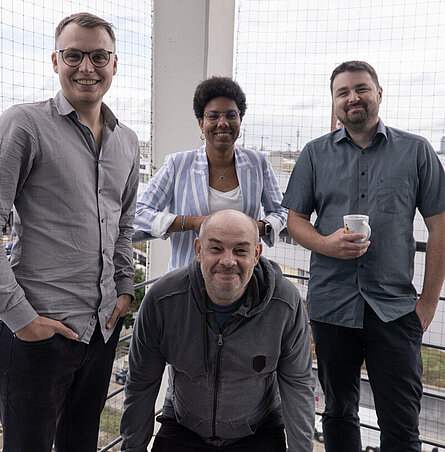 Let your content flow naturally: water never runs uphill
It's a brand new day, time for some brand new content. Or chaos. That depends. On your processes. Whether you are creating content as text, graphics, or video, perfection or disaster will continue along the chain, on various channels and in multiple languages, when the source content is reprocessed. If the sentence "Please do not clean the filter" does not contain the word "not" in the source file, your customers across the globe will be sure to carefully clean that filter. Then it's not just the filter that's in trouble. Quality control checkpoints for reviewing content prevent your schedule from imploding as a result of late feedback loops. The alternative isn't exactly appealing: if deadlines are all that matters for your project, consistent wording goes out the window. That's not a solution either.
We help you configure streamlined, secure, and agile content creation workflows. By bridging the gap between systems, we ensure consistent content throughout the content journey.
Safeguarding of your content against mistakes during content creation
Quality control for multidimensional projects
Compliance with schedules through elimination of feedback loops
Long-term compliance with corporate wording for subsequent projects and reusability
Analysis of your content creation workflows by itl content supply chain experts

The analysis includes:

Technical documentation planning
Content reuse
Content individualization
Workflows for creating internationally consistent content
Collaboration with suppliers
Technology management and integration with the content supply chain

Design of agile and secure content management workflows
Development of a project plan for workflow optimization
We integrate your systems
Optimize your customer journey today.
Find out more about the digital ecosystem from itl.
Presentation on the content supply chain (in German)
Find out everything you need to know about optimizing the content supply chain in a tekom presentation by Bastian Heilemann.
Technology infrastructure
A sneak preview for your new technologies
"We'll see what we'll see." Franz Beckenbauer invented the role of the sweeper in the game of soccer, but in Germany today he is also very famous for this particular quote. You might not have guessed it, but we are in fact talking about digital twins. What are digital twins? They allow you to "see" if you like what we have in store for you. For example, a new or fine-tuned IT infrastructure for your content supply chain. Digital twins are an incredibly helpful, money-saving method of simulating IT infrastructures and testing them to see if they meet your requirements – before making the decision to buy. Finally, you can see in advance if you like what you see.
At itl, we're happy to provide a preview of your infrastructures or to set up a cloud native architecture so that your content solution isn't just integrated, but scalable too. We analyze your technology infrastructure for limitations and support you with technology upgrades to keep your content creation workflow flexible.
Our checkpoints for analyzing your infrastructure are:
Which content management system is right for you?
How can we integrate all the content from your homepage, social media accounts, apps, and digital trade show presentations?
Do you need multiple content management systems?
Which digital asset management system is right for you?
Do you need SaaS (software as a service), or would you prefer an on-premise solution?
How can technology enable technical documentation planning and map efficient workflows?
What happens to the existing homepage?
Forward-looking IT infrastructure that adapts flexibly to your needs
Simulation and modelling of solutions for a sound decision
Seamless content supply chain with only minimum manual intervention required
Your contact persons on the subject of Intelligent Solutions