Cloud developments make all the difference
There is a vast difference between applications developed specifically for operation in the cloud and server-based applications. They are like chalk and cheese. It is also important to understand that cloud native applications are not the same as applications that are simply uploaded to the cloud and run from there. You can do this, but then all the benefits for the user are lost. Only genuine cloud applications offer real flexibility. Functionally, they can be adapted very quickly to meet new requirements, they are scalable and can grow with your company, and they also offer secure operation in the event of issues with your IT infrastructure.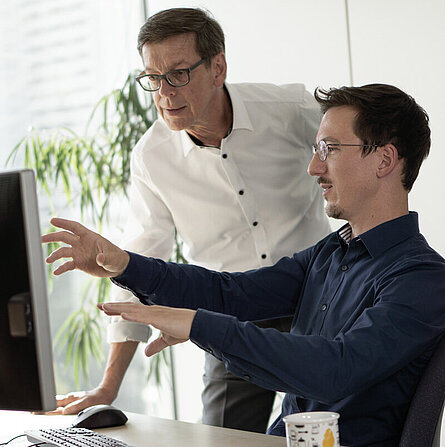 [itl]-DES: the itl digital ecosystem
Perfect for your workflows, your content, and your products
You may not believe it, but there is such a thing as the perfect content supply chain. When it is achieved, workflows, tasks and actions are tightly automated and integrated, reducing the time to market for your products and the cost of your content, while boosting content quality. This is possible by bringing everybody involved in creating, localizing, distributing, and managing content together as members of the content family: suppliers, partners, and customers. Clever solutions that bridge the gap between the various content systems are then all you need for the perfect content supply chain. That's why we add smart microservices, end-to-end solutions, and services from [itl]-DES, the digital ecosystem from itl, to the mix.
We plan and structure your content supply chain using cloud native applications, cloud native infrastructure, and AI applications from our [itl]-DES ecosystem, leveraging innovation to take you to the next level of digitalization and workflow optimization. A content supply chain that's been boosted by[]- ecosystem components and services guarantees a shorter time to market for your content and, of course, your products.
Real savings when it comes to creating, localizing, distributing, and managing your content
An agile approach to reduce the time to market for content and products
Superior content quality and greater market visibility
Content individualization (brand voice)
Successful implementation of a consistent international corporate language
Join the community and share your innovative ideas
Guidance to help you plan and implement content supply chain solutions as well as devise a corresponding strategy
Support with the rollout of your corporate language
Proposal for scalable end-to-end solutions for a content supply chain with our partners
Delivery of connectable components for the content supply chain, for example:

Connectors for an automated flow of data
Voice-overs using AI and the option of creating brand voices
Transcription using AI, in other words, conversion of existing audio tracks to text and then to other languages
AI-driven cleanup of translation memories based on freely configurable criteria
AI-driven preparation of translation memories to train customer or domain-specific machine translation engines
Transfer of content to a 3D trade show platform
Various additional microservices in the pipeline
Be part of the innovation culture of itl, our partners, and our customers. With our solutions, we start where you are and support you on the journey to the next level of digitalization and workflow optimization.
We're here if you need us – no strings attached. Arrange an appointment today!
Presentation on the content supply chain (in German)
Find out everything you need to know about optimizing the content supply chain in a tekom presentation by Bastian Heilemann.
[i]-match: the itl language management platform
Corporate design is an essential part of corporate identity for any company. And with good reason. In addition to colors, shapes, and fonts, corporate wording is also an integral part of CI. However, terminology has a problem. If different teams maintain terminology at all, it usually consists of separate standalone lists of allowed terms and phrases. Consistent corporate wording doesn't stand a chance. Luckily, [i]-match can solve the problem: our language management platform stores all your approved terms, sentences, and style guides. All your staff can access the language content. From anywhere in the world. Because [i]-match is in the cloud. Meaning no extra work for your IT team. They will thank you. And you'll thank us too.
The [i]-match language management platform is available as a cloud native application. For the first time, consistent corporate wording is possible throughout your company. The application can be seamlessly integrated into existing infrastructure and scaled to suit customer requirements.
[i]-match is provided as a cloud native SaaS application
Hosting of the application on secure servers
Configuration of the database
Maintenance of the language management platform with agile updates
If required, adjustment of availability of functions to the user (assignment of permissions)
Fail-safe operation thanks to scheduled downtimes
Training of your developers so that [i]-match can be integrated in your infrastructure
Consistent, concept-oriented, technical terminology available across your company
Maintenance of standard concept-oriented sentences in multiple languages
Comprehensive options for creating metadata
Structured storage and rapid term retrieval, across your company, on the web, and worldwide
Available right at the start of content creation, shortens the workflow
Control of workflows for terminology and for approval of the source and target languages
Flexible validation of documents with high-speed real-time searches or batch checks for individual pages or entire documents, even if there are millions of data records
Terminology management with [i]-match
Your contacts for intelligent solutions